One-Stop Solution For Label & Sticker Printing
In Solid Labels Packaging, we offer end-to-end solution to packaging labels for both businesses & consumers. We have sophisticated machines and resources that allow for various labels and stickers printing –
Packaging Labels, Food Labels, Beverage Labels, Bottle Labels, Peanut Butter Jam Labels, Jar Labels, Bar Code Labels, Cosmetic Labels, Industry Labels, Hazard Labels, Fruit Labels, Container Labels, Pharmaceutical Labels, Promotional Labels, Shipping Labels, Outdoor Environment Labels, Petrochemical Labels, Gas Labels, Commercial Labels, Retail Industry, Individual Use Stickers, etc.
We are committed to providing excellent quality labels & stickers from day-to-day businesses, while keeping the lead time short and most importantly, affordable rate for our customers.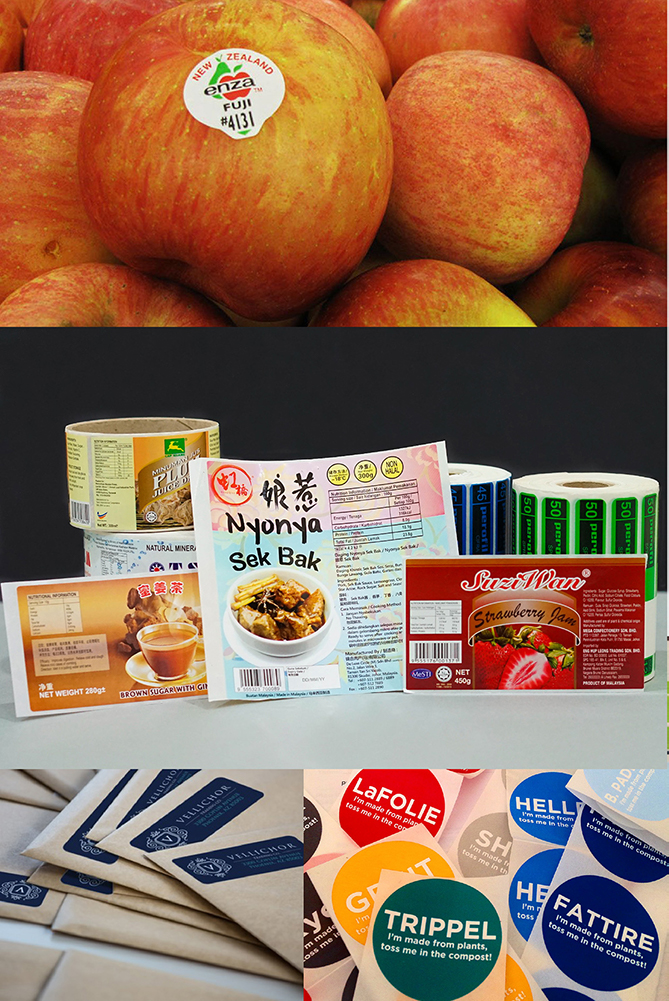 Label Printing In Johor, Malaysia
We are a printing company that committed to providing our customers with extraordinary labels and stickers ranging from commercial to personal uses.

Quality Guaranteed
To ensure the best and consistent quality of our labels, we print all labels and stickers in our firm with ISO proven quality.

Customizable Design
To meet day-to-day dynamic requests from our enquiries, we have own professional graphic designers that we can cope with various designs & needs.

Advanced Machines
To satisfy and exceed our customers' expectations of our labels, we have the sophisticated label printing machines that allow us to work with all requests.

Green Environment
As a responsible label printing company, we have a proper waste water treatment and sewer system that we can be sure of no harm left to our environment and society.

Competitive Price
We work with customers varies from commercial to personal uses and understand their concern of the prices. So we always do our best to meet their expectation of the rates.

Short Lead Time & Fast Delivery
Based In Johor Malaysia, not only do we print labels and stickers, we also deliver for you, both east and west Malaysia. You order, we print, we deliver!
Types of Self-Adhesive Papers
We offer a wide range of materials for labels printing, including Mirrocoat Label, Woodfree Label, Foil Label, Fluorescent Label, Industrial Vinyl Label, Destructible Vinyl Label, Clear Polypropylene Label, Semi/High-Glossy Litho Label, Satin Label, & Smooth, Lamination, UV Coating, Matt Finish Label. Roll & Sheet Forms. 
Labels For Indoor & Outdoor
We have custom multi-colored or blank labels and stickers for both indoor and outdoor uses, such as Food & Beverage Label, Product Label, Retail Packaging Label, Cosmetic Label, Branding Label, Wine Label, Control Pine & Panel Label, Cable Tray Label, AC Unit Label, Rental Equipment Label, & Window Stickers.
Complete Resources For Custom Labels Printing
As a One-Stop Solution For Labels Printing, we have equipped with sophisticated resources that allow us to provide our customer with end-to-end sticker printing service – In-house Professional Graphic Designers, Artwork Illustration, Colors Proofing & Separation, Intermittent Label Printing Machines (4&6 Colors), Die-Cut Machine, Off-Set Printing Machine, Spot UV, Coating & Varnishing Machines. 

"Our packaging production is able to run smoothly, thanks to the prompt supply and fast delivery of stickers from Solid Labels."
Mega Confectionery

"We export our goods to international countries like Japan, and the packaging labels from Solid Labels certainly pass the test. "
Tangmin Marketing

"I have been getting labels supply from Solid Labels, who offers consistent and affordable rate throughout the years."
MK Products Trading

"My business needs special kinds of labels like hot stamping and outdoor resistant, and Solid Labels is able to supply."
Amore